Digital Training Delivery
Online Training in the Covid-19 Coronavirus Pandemic
Typically our team and leadership training courses are delivered face to face, at a venue of your choice. Due to the unprecedented global situation, we have adapted our training material to ensure that participants and organisations still experience maximum benefit from our courses. As with many organisations recently we've been forced to embrace the digital remote working word in an entirely new way.  As such, we've developed a range of training courses aimed specifically at increasing remote leadership and management skills.
Unlike some training companies we've shied away from delivering pre-recorded webinar or video sessions, and have focussed on what we know works. Each of our online training sessions is delivered using a training platform that creates strong links between participants and tutors.  We have maintained our 1:10 training ratio, and ensure that our experienced tutors provide participants with ample opportunity to engage and learn.  We make creative use of virtual breakout spaces, along with updated and upgrade exercises that have proven to be as efective as the normal contact time ones that we use.
Our blended learning approach has allowed us to deliver to a range of clients across multiple sectors and we have been receiving excellent feedback from participants and organisations.
Changing Challenges
Many organisations are now struggling with adapting to the changing times, and how to ensure they motivate, lead and develop their people. We have re-designed all of our courses to ensure they adapt and meet this new need. As with all our training, we design bespoke packages based around your organisational needs.  A few sample courses include:
Remote Leadership in the Digital Domain
Self Leadership including resilience and personal growth
Leading Others
Strategic Leadership
Team development
In addition to the module delivery, our training courses also consist of 1:1 coaching support, and group Action Learning Sets.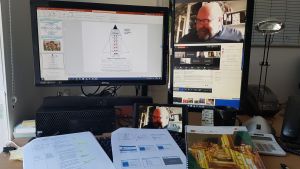 Testimonials
We've received some fantastic feedback on our online leadership development programmes. These have included:
I absolutely loved the breakout rooms – Participant,
I was really happy, I came with an open mind, and left very pleased – HR Manager, Renewables Industry
This has worked far better than I imagined, with people being engaged throughout – Commercial Director, Oil & Gas Industry
Israelmore Ayivor
You can't lead people if you can't lead yourself
